OxfordSaudia, owned by the Saudi National Company of Aviation (SNCA), will implement the UK-based software firm Ideagen?s Coruson system for quality management with additional functionality and capability for safety and risk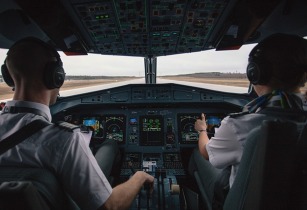 Within aviation, it is crucial to be able to keep track of processes and the thousands of related pieces of procedural documentation that goes along with those processes. (Image source: StockSnap/Pixabay)
The flying academy is the kingdom?s first-ever and is an authorised training partner of the CAE, a global leader in training for the civil aviation, defence and security, and healthcare markets.
Coruson will be adopted for specific tasks such as the electronic storage and management of crucial operational processes, tracking quality and safety issues, identifying risks and analysing data to provide areas of operational improvement.
Nigel Crompton, safety manager at OxfordSaudia, said, ?Within aviation, it is crucial to be able to keep track of processes and the thousands of related pieces of procedural documentation that goes along with those processes, in order to maintain elite levels of safety and quality.?
?This project with Ideagen will ensure that we have the correct system in place as we look to establish and grow in Saudi Arabia and enhance our reputation globally.?
OxfordSaudia, based at King Fahad International Airport, has also been tasked with bringing through more than 2,000 pilots ? as part of the Kingdom?s ?Vision 2030? Saudization programme.
Saudisation, officially known as Saudi nationalization scheme, or Nitaqat, is the newest policy of the kingdom of Saudi Arabia implemented by its Ministry of Labor and Social Development, whereby Saudi companies and enterprises are required to fill up their workforce with Saudi nationals up to certain levels.
Crompton added, ?CAE is providing Oxford Saudia with the key elements for world-class cadet training such as commercial pilot license curriculum and courseware, training of staff and instructors, and safety and quality control systems.?
OxfordSaudia CEO Larry Wade commented, ?The use of Ideagen?s Coruson software is in line with our corporate vision of deploying the latest technology to provide the highest quality training in the industry with the industries leading providers who are known for the highest level of excellence, reliability and efficiency. We look forward to our continued partnership with Ideagen as they help us reach new levels of effectiveness and safety in the training industry across all of our businesses.?