Kuwait-based aircraft leasing company ALAFCO has announced an initial commitment to purchase 20 Boeing 737 MAX 8s for a total value of US$1.9 billion at current list prices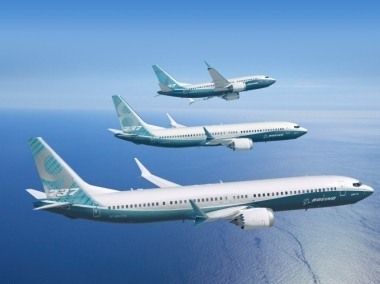 ALAFCO has committed to buy 20 of Boeing's 737 MAX 8s. (Image source: boeing.com)
"This is the first commitment for the 737 MAX from the Middle East, which is one of the aviation industry's highest growth regions," said Ray Conner, president of Boeing's commercial airplanes division.
Ahmad Alzabin, ALAFCO chairman and chief executive officer, said in a statement, "Today, with rising fuel costs, the 737 MAX will provide operational cost savings to airlines in addition to being more environmentally-friendly due to its latest quiet engine technology.
"These are the advantages that airlines are looking for in the current competitive and demanding environment."
ALAFCO had previously ordered six 737-800s in March 2007 with the last airplane delivered to the leasing company in July 2011.?The first 737 MAX is scheduled to be delivered in 2017.
GE Capital Aviation Services, the commercial aircraft leasing and financing arm of General Electric, agreed to buy 75 of Boeing?s upgraded 737 Max narrow-body jetliners and 25 of the current model, while US-based Air Lease Corporation, ordered 75 737s worth a total of $7.2 billion.
Boeing's 737 MAX series is an upgraded and more fuel-efficient version of the 737, the world's best-selling commercial airplane.
The 737 MAX has accumulated more than 1,000 orders and commitments from 17 customers worldwide since its launch in August last year.