Qatar Airways has unveiled its new Boeing 787 Dreamliner aircraft at the Farnborough International Air Show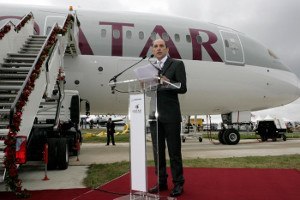 Qatar Airways' Akbar Al Baker at the launch of the airline's new Boeing 787 Dreamliner. (Image source: Qatar Airways)
The airline, which will add to its current 109-strong fleet with the delivery of five 787s during 2012, opted to debut the aircraft at the world's largest aerospace event.
The aircraft performed an aerial display at the UK airshow, which marked the first time Boeing's Dreamliner has participated in a flying show.
Qatar Airways chief executive officer Akbar Al Baker remarked, ?As an airline, we have continued to push the boundaries and set new standards in global aviation for more than a decade to create a world-class airline.
"The delivery of the first of our 787s reinforces our commitment to continue this trend and invest in next generation aircraft, with the aim of having the youngest and most technologically advanced fleet in the industry.
Qatar Airways? 787, which will make its long-haul debut this summer between Doha and London Heathrow, will feature seat configurations of 1-2-1 in business class and 3-3-3 in economy class.
?The 787 will create new benchmarks in comfort and space across both our business and economy cabins and continue to allow us to offer an unrivalled inflight experience and unparalleled signature five-star service onboard to existing passengers and new ones,? added Al Baker.
Qatar Airways has had a busy 2012 to date, having launched a host of new routes, including flights to Georgian capital Tbilisi, Zagreb in Croatia and the Iraqi cities of Baghdad and Erbil. Before the end of the year, the airline plans to launch new services to Kilimanjaro in Tanzania, Mombasa in Kenya and Burma?s largest city Rangoon.
READ MORE...
Middle East flying high after air traffic growth revealed
787 Dreamliner touches down in Africa
Emirates to operate daily Zimbabwe and Zambia route