Turkey-based construction company Limak Insaat has started a six-year project to build a US$4.3bn passenger terminal in the Kuwait International Airport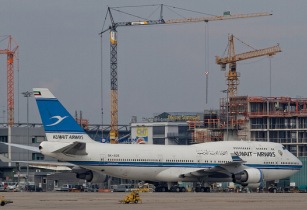 The new terminal will be an iconic gateway to the country. (Image source: Michael Frank Franz/Flickr)
The Emir of Kuwait, Sheikh Sabah Al Ahmad Al Sabah, and President of Turkey Recep Tayyip Erdogan have jointly inaugurated the construction of a new passenger terminal on Kuwait International Airport. The construction of new US$4.3bn terminal is projected to be completed in six years, and will have the capability to control 25mn passengers per year, accommodate all types of aircraft carriers through 51 gates and stands, and will be able to serve 21 A380s.
The construction is intended to meet the need of passengers travelling through Kuwait International Airport. The number has increased by 10 per cent annually reaching 12mn passengers in 2016. Sheikh Salman Sabah Al Salem Al Humoud Al Sabah, the president of Kuwait?s Directorate General for Civil Aviation, said, ?The number of passengers is expected to exceed 23mn in 2027?. He has also stated that, ?This dynamic and important project will meet the aspirations of travellers in terms of advanced systems, technologies, services, high levels of safety and security in addition to being an environment-friendly project.?
Kuwait?s minister of public works Abdulrahman Al Mutawa said, ?This project is designed to handle 25mn passengers a year and is scalable for an additional 25mn in the future.? He further stated, ?The airport will include solar panels placed on the roof to generate enough energy to power 10 per cent of the terminal?s electricity consumption.?
Limak chairman Nehat Ozdemir confirmed that Fosters + Partners, the Pritzker Award-winner global architecture firm, has designed the project and more than a construction project, ?it?s a link between the two countries; Kuwait and Turkey, between two economies, between two societies.?
The project uses cutting edge advanced technologies like 12MW advanced guard solar power generation through 66,000 panels on the roofs of the terminals. The designs include the whole architecture coming under a single roof shade with cooling cascade in the baggage claim section, and south pointed landslide access sequence ? all with the front view of horizontal lush oasis.
Once the project is completed, Kuwait International Airport will be considered one of the most advanced airports in the world.