Through its local company, Thales Bahrain SPC has successfully delivered phase 1 of the special airport communications and security systems in respect of the airport modernisation project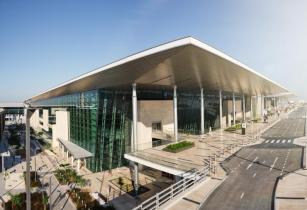 Thales has built strong partnerships with public sector organisations including the Ministry of Transportation & Communication. (Image source: Thales)
Built in two phases, the Bahrain International Airport expansion covers 210,000 sqm, quadrupling the size of the existing terminal and increasing its capacity to 14 million passengers a year. The project is in an important step in achieving Bahrain?s Economic Vision 2030 and aims to cement Bahrain?s reputation as a leading aviation hub in the region.
With more than 30-years presence in Bahrain, Thales has built strong partnerships with public sector organisations including the Ministry of Transportation & Communication. Thales is one of the main local partner embedded in the ecosystem of the country promoting localisation in order to develop sovereign capabilities in line with the Economic Vision 2030. Through its local company, it intends to foster its contribution to the country?s ambitions to develop a knowledge-based economy with outstanding civil infrastructure and security, underpinned by a strong local industrial technology base to support growth, localisation and industrialisation strategies.
Thales was subcontracted for the supply of an integrated solution covering security, safety, airport operation, as well as communication and infrastructure for the Bahrain International Airport terminal building, car parks and Central Utility Complex. These technologies focus on smart security, including advanced modular solutions such as video analytics, abnormal behaviours or conditions detection, smart incident management and resource management tools. Thanks to its long-standing experience in the air mobility industry, airport security and identity management. Thales provides a full-integrated offer to secure and optimise every operation in the airport.
Through centralising the management of Airport operations, Bahrain International Airport is guaranteed a high level of business continuity and traffic flow within the airport. This will also lead to reduced waiting times while ensuring the best possible safety conditions, improving passenger experience and increasing infrastructure performance. Thales solutions also enable the production of relevant performance indicators (KPIs) to inform decision-makers in real time and make the organisation more efficient.
?We have ensured that Bahrain International Airport has been equipped with the latest smart and innovative solutions. This guarantees optimum protection for passengers, staff and facilities, and meets the demand for enhanced security at the new airport by Ministry of Transport and Telecommunications and Bahrain Airport Company.
Thales?s strength in innovation and digital technologies perfectly positions the group to become a preferred partner for aerospace, transportation and public security, the pillars of Bahrain?s smart city ambition,? Alain Correia, managing director, Thales Bahrain.