The engineering and design work on the GCC rail network is expected to be completed in 2015, stated World Bank senior transport specialist Ramiz Al-Assar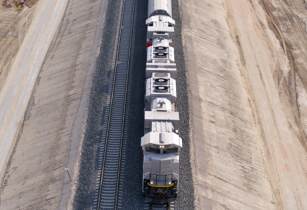 Etihad Rail has completed the 120 km coastal section of the GCC Rail. (Image source: Etihad Rail)
Al Assar, who works with World Bank?s Sustainable Development Department as a senior transport specialist for the MENA region, said that he will meet with the GCC Railway expert working group in Abu Dhabi in May 2015. Hopefully, an agreement on the master schedule would be reached by June 2015, he added.
Earlier this year, officials from the UAE?s Federal Transport Authority (FTA) said that the rail network may not be completed by 2018, which is the present deadline. FTA chairman Abdulla Belhaif Al Nuaimi said that some member countries might not deliver the project on time.
Among the GCC member nations, the UAE and Saudi Arabia claim to be on track with the railway construction. Etihad Rail, which is responsible for developing the 120 km coastal section in the UAE, has completed the first stage of construction and officials said the second stage, spanning 628 km, will be launched soon. Al Assar confirmed that Saudi Arabia has begun the construction on a 200 km-long railway line too.
Meanwhile, Qatar Rail is expected to finalise bidders for the first phase of its railway from Doha to the Saudi Arabian border. A study will be completed in June 2015 for the feasibility of a railway causeway linking Dammam with Bahrain, where two stations are being planned.