Etihad Rail has signed a MoU with DP World for the development of an intermodal rail terminal in Jebel Ali Port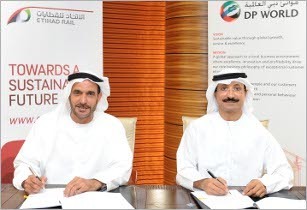 The intermodal rail terminal will enable efficient transfer of freight from Jebel Ali Port. (Image source: DP world & Eithad rail)
The rail terminal at Jebel Ali would enable the more efficient transfer of containerised freight arriving at the port and would bring benefits to logistics companies operating in the UAE.
?The rail terminal and the Etihad Rail network as a whole will add significantly to the efficiency we can offer customers at our flagship Jebel Ali Port.?It will reinforce Dubai?s status as both a regional hub and a gateway for cargo for the UAE and the wider Middle East, subcontinent and East Africa region,? remarked DP World chairman Sultan Ahmed Bin Sulayem.
DP World has already selected a strategic potential plot for the rail terminal adjacent to Jebel Ali Maritime Terminal 1 and close to Terminal 2.
A DP World team will oversee the building and operation of the loading and unloading facilities at the rail terminal while Etihad Rail will construct and own the railway infrastructure and manage the rail services to and from the terminal, a joint statement said.
By 2030, it is predicted the Jebel Ali intermodal rail terminal will have a capacity to handle the transfer of 5 million TEU?s per annum.?One train carriage will be able to carry 260 TEU?s.
Chairman of Etihad Rail, Nasser Al Sowaidi, commented, ?This important MoU with DP World is a key milestone in securing Jebel Ali Port as an integral part of the Etihad Rail network and represents a significant step forward in the network?s overall development.?
Once completed, the Etihad Rail network will span a total of 1,200km across the whole UAE. The network will also link up to the GCC Railway Network, which will connect the UAE to Saudi Arabia via Ghweifat in the west and Oman via Al Ain in the east.