Saudi Arabia has picked four international consortia as the final competitors to build the Riyadh metro project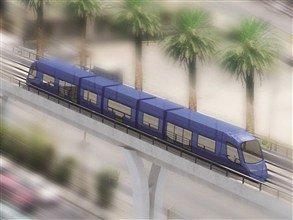 A model of the proposed Riyadh metro project. (Image source: ADA)
The consortia ? including 33 companies from 15 countries ? have to submit their final bids by December, said the Arriyadh Development Authority (ADA) in a statement.
The bidders for the project include Vinci and Alstom of France, Italy?s Ansaldo, Canada?s Bombardier, Germany?s Siemens and Stadler Bussnang of Switzerland.
Six lines of electric rail, totaling 175km, are planned to stretch across Riyadh and serving the airport and the future King Abdullah Financial District. The new metro system will attempt to to ease congestion in Riyadh's gridlocked streets.
The Saudi cabinet approved plans in April to develop a new public transport network in the city within four years that would include both a metro and a new fleet of buses. Consortia for the bus project are being assessed separately.
One consortium is led by France's largest-listed construction and concession's firm, Vinci and includes Germany's Siemens.
A second is led by Canadian firm Bombardier and includes Turkey's Yapi Merkezi, Spain's Obrascon Huarte , Korea's GS Engineering and Construction Corp , and Britain's Serco.
A third consortium is led by Spain's FS Engineering and Construction. It includes France's Alstom Transport, Korea's Samsung C&T Corp.
The fourth consortium is led by Austria's Strabag and includes Italy's Ansaldo STS, Switzerland's Stadler Rail, India's Larsen & Toubro Ltd, Britain's Hyder Consulting and US firm Worley Parsons.