Hill International and ASTAD Engineering Consultancy and Project Management Company?s JV has received a contract extension from Qatar Railways Company for project management services in connection with the Green Line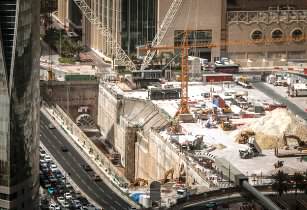 The first phase of the Doha Metro is scheduled to open to passenger traffic in 2019. (Image source: Tom Oliver/Flickr)
One of four major lines of the new Doha Metro transit system, the 30-month extension has an estimated value of US$43.1mn. Hill International is an 80 per cent partner in the joint venture with ASTAD holding the remaing 20 per cent.
The Green Line runs east from Al Mansoura to Al Riffa in the west. As it passes through Education City, the line is also known as the Education Line. Aside from Education City, other stops includes Hamad Hospital, Al Shaqab and the upcoming Qatar National Library. The Green Line will include 11 stations over approximately 22km and is expected to accommodate 140,000 passenger trips per day by 2021.
?This contract extension is a reflection of Qatar Railways? confidence in the Hill team,? said Mohammed Al Rais, regional president (Middle East) for Hill?s Project Management Group.
In May this year, Qatar Railways completed 100km of tunneling across the Doha Metro project.
READ MORE...
Qatar Rail?s Doha Metro project wins international awards