Virgin Hyperloop One (VHO) announced that it will conduct a study to build the test and certification hyperloop track in Saudi Arabia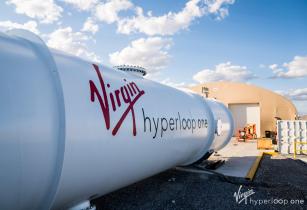 The hyperloop is a proposed high-speed transportation system. (Image source: Virgin Hyperloop One)
A 35-km test and certification tract will be built 100-km north of the Red Sea port of Jeddah in King Abdullah Economic City, as well as a research and development centre and hyperloop manufacturing facility, will be set up north of Jeddah.
According to VHO, travelling from Riyadh to Jeddah would be reduced from 10 hours to 76 minutes and moving from Riyadh to Abu Dhabi would take 48 minutes as against the current 8.5 hours.
Mohanud A Helal, secretary-general of Saudi Arabia?s Economic City Authority, said, ?Having hyperloop at King Abdullah Economic City is going to act as a catalyst for a Saudi Silicon Valley effect and galvanize our software development, high technology research, and manufacturing industries.?
Jay Walder, CEO of Virgin Hyperloop, said that a hyperloop system could help enable Saudi Arabia to become a global transportation powerhouse.
Virgin Hyperloop One?s technology features depressurized tubes that carry on-demand passenger or cargo ?pods? at speeds up to 1080-km/hour.