Orascom Construction PLC's consortium with Mitsubishi Corporation has signed a contract with the National Authority for Tunnels (NAT) in Egypt to execute the railway systems, track and depot works package (CP411) for Cairo Metro Line 4, Phase 1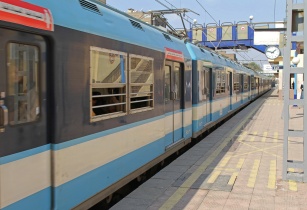 The contract amounts to US$800mn approximately, where Orascom Construction's share exceeds US$350mn. (Image source: Markobe/Adobe Stock)
The contract amounts to US$800mn approximately, where Orascom Construction's share exceeds US$350mn.
The scope of the work includes signalling, power supply, telecommunication, platform screen door, automatic fare collection, track work and the depot/workshop.
The project will be financed by a Japanese Yen Credit Loan, provided by the Japanese International Corporation Agency (JICA), under the condition of the Special Technical Economic Partnership (STEP), which will be implemented for the first time in Egypt with this project.
Cairo Metro Line 4 will be constructed as a new underground line, where Phase 1 will stretch across 19 km and 16 stations, connecting the centre of Greater Cairo to the pyramids area in Giza and will be serving as a rapid transport system for the masses, resulting in reduced traffic congestion.
The metro line will also benefit tourism transportation in Egypt as it will be connecting travellers directly to the pyramids area and the Grand Egyptian Museum (which is being built by Orascom Construction and BESIX).
Osama Bishai, CEO of Orascom Construction, said, ?This contract is testament to our strength in the transportation sector and builds on our longstanding involvement in the development of Cairo Metro. We are pleased to partner with Mitsubishi Corporation on this new line, which will be receiving funding from the Japanese International Corporation Agency, and collaborate once again with our repeat client, the National Authority for Tunnels. This project also positions us for future work in this sector, ranging from new phases of Cairo Metro to new railway projects.?
Orascom Construction Group is building all phases of Greater Cairo Metro at present. It recently delivered the Cairo Metro Line 3 Phase 4B, which stretches across 8kms and includes five elevated stations and a depot. The company has also undertaken the work for the world?s longest monorail system and the Light Rail Transit project in Egypt.