The first four of the 75 Doha Metro trains have arrived two months ahead of schedule at Hamad Port in Qatar after a three-week journey by sea from Japan?s Kobe Port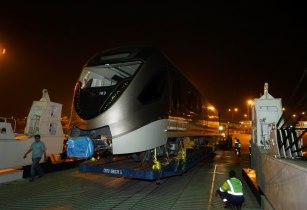 The Doha Metro project is expected to transform the rapid transit system in Qatar. (Image source: Qatar Rail)
The remaining 71 trains are expected to arrive as per the schedule by 2020, according to Qatar Rail.
The trains will be transported to Qatar Rail?s Al Wakra Depot for conducting all the necessary tests in order to ensure that they meet passenger safety standards to be ready for the operational phase.
The order for 75 sets of trains for Doha Metro project was awarded to the consortium of five companies led by Japanese Mitsubishi Heavy Industries Ltd in February 2015.
According to Qatar Rail, the fully automated and driverless trains for the Doha Metro aim to reach 100km per hour. The total 75 trains consist of three cars ? Gold Class with 16 seats; Family Class with 26 seats and the Standard Class with 88 seats.
?The designs of the Doha Metro trains are an embodiment of Qatari heritage and culture combined with state-of-the-art technology,? said Qatar Rail to the press.
?The design is custom-made for the Doha Metro project and the interior is inspired by the progressive architecture present in Doha skyline, once again combining traditional and modern elements,? Qatar Rail further added.
The Doha Metro is being built in two phases. The first phase consists of the construction of three lines and 37 stations, which are expected to be open to the public by 2020. The second phase will be completed by 2026, which will include the expansion of the phase one lines, the construction of an additional line and another 72 new stations.
Recently Qatar Rail has announced that the progress of Doha Metro Phase One stands at approximately 62 per cent. Most of the civil works have been finished and scheduled to be completed by the end of 2017.