French company RATP Dev has won contracts to operate and maintain future Algerian tramway line projects through a joint venture, the Algerian transport ministry said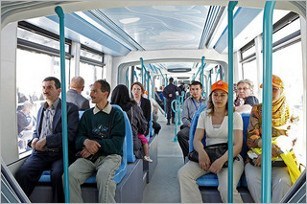 RATP Dev will operate the eastern line of the Algiers tramway. (Image source: Magharebia/Flickr)
RATP Dev will partner with Entreprise du M?tro d?Alger (EMA) and Etablissement Public de Transport Urbain et Suburbain d?Alger (ETUSA) with the joint venture tasked to operate, service and maintain all tram services in Algeria.
RATP Dev executive board chairman Jean-Marc Janaillac said, "We are delighted with this new partnership with the Algerian authorities.
"We aim to consolidate our expansion in North Africa and ensure our long-term presence in the Gulf region."
The company will operate the Eastern line of the Algiers tramway. The first 7km section with 14 stops commenced its service in May 2011.
The second section, which has 16 stops, has been scheduled to begin its service on June 15. A third section will begin operations in 2013. Once completed, the tramway line will carry up to 185,000 passengers per day.
The joint venture will also operate and maintain tramways in Oran and Constantine. The Oran and Constantine tramways are scheduled to begin service in 2013 and will feature nearly 19km of track with 32 stops and 8km with ten stops respectively.
RATP Dev will hold a 49 per cent stake in the joint venture, with EMA having a 30 per cent stake and the remaining 21 per cent will be held by ETUSA.