Abu Dhabi Ship Building (ADSB), provider of construction, repair and refit services for naval, military and commercial vessels, has commissioned the company?s first floating dock located in Mina Zayed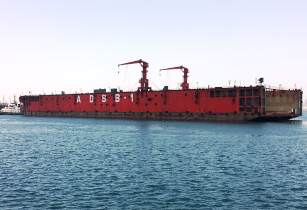 The new floating dock offers a myriad of services including structural steel, mechanical, pipe and electrical repairs, state-of-the-art hull treatment with the aid of robotic machines and tank coating work. (Image source: ADSB)
The opening of the floating drydock signifies a new phase of growth for the company, as it looks to expand its commercial service offering, according to ADSB.
Khaled Al Mazrouei, CEO of ADSB, said, ?We are proud to announce this latest milestone for Abu Dhabi Ship Building. The addition of the floating drydock contributes to our commitment to expand our service offering, strengthening our local maritime services and industries, and delivering on the large scale goal of Abu Dhabi?s continued economic diversification.?
The new floating drydock is expected to enhance the company?s service capabilities, allowing ADSB to service ships that were previously too large to be handled to their headquarters in Mussafah. The 180 metres (l) X 30 metres (w) floating drydock allows ADSB to dock vessels up to 180 metres in length. The floating dock was commissioned in mid-July and received its first customer that has undergone routine drydocking, electrical and mechanical works at the port.
The new floating dock offers a myriad of services including structural steel, mechanical, pipe and electrical repairs, state-of-the-art hull treatment with the aid of robotic machines and tank coating work.
With the addition of the floating dock, ADSB is looking to expand its customer base through the new service. The facility now enables ADSB to service the oil and gas industry and the company aims to attract new customers across diverse industries through a network of agents representing 16 countries across Europe and Asia who will market the new facility.