Albwardy Damen, a joint venture between Dubai?s Albwardy Investment and Holland?s Damen Shipyards Group, has launched a full range of afloat, workshop and diving services at Sohar Port and Freezone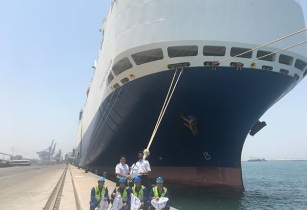 The vessels calling into Sohar are expected to be benefitted from the nearby Albwardy Damen Diving. (Image source: Sohar Port and Freezone)
The new Sohar operations represent the fourth location of the company?s operations in the Middle East, adding to Albwardy Damen?s afloat repairs division comprehensive workshop facilities in Dubai, Sharjah and Fujairah.
Albwardy?s repair portfolio includes hull and deck steel repairs such as pipework, hydro-blasting and painting works, as well as mechanical works such as engine overhaul, hydraulic and electrical works. Certified riding squads are also available to meet customer requirements on board vessels.
?By establishing this new venture, vessels in Sohar which require repairs and maintenance will be able to get on their way as soon as possible,? said Willem Moelker, director of sales and marketing at Albwardy.
The company focuses on reducing mobilisation and repair times drastically, Moelker added.
Additionally, vessels calling into Sohar are expected to be benefitted from the nearby Albwardy Damen Diving, which has been serving the marine industry since 1995. The diving hub is located in Fujairah Port and the diving teams are able to serve regional ports and anchorages.
According to Moelker, this strategic Sohar expansion of Albwardy, the first ship repair company to have a presence in Oman?s rapidly growing logistics hub, has been driven by demand from customers and other stakeholders.