Dubai Maritime City has signed a land lease (Mustaha) agreement for 25 years with ship repair and building entity, Dubai Shipbuilding.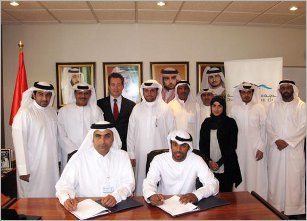 Dubai Maritime signs 25-year land deal with Dubai Shipbuilding : Image credit - seanews.com.tr
The agreement was signed by Sheikh Juma bin Thani bin Juma Al Maktoum, Executive Director - Business District, Dubai Maritime City, and Bader Moh'd Obaid bin Mubarak, Deputy Chairman, Dubai Ship Building.
The area of the land is over 11,196 square meters and is a ship repair plot within the Business District of Dubai Maritime City.
Global maritime region
"We continue to strengthen our operations in Dubai Maritime City, since the formal launch of the Maritime District last year. This partnership will help us take greater strides at promoting the region as a global maritime," said Khamis Juma Buamim, Chairman of Drydocks World and Maritime World.