HMS Networks has provided network connectivity solutions for BTG, a Dutch company specialised in producing positioning systems for automated container ports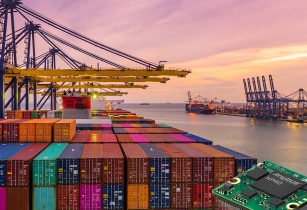 The Anybus CompactCom offers up to 1448 bytes of process data in each direction. (Image source: HMS Networks)
BTG's IRM400 range of positioning measurement systems need real-time data to be sent over different industrial networks. With the help of sensors, BTG's innovation enables cranes to transfer cargo from ships to automated guided vehicles (AGVs). However, networking is difficult and complex. Although AGVs and cranes frequently use different industrial networks, they both require the ability to transfer real-time data in challenging conditions.
BTG needed a networking solution that could be integrated into the IRM sensor and enable communication through CANopen, PROFIBUS, and PROFINET networks. BTG wanted the ability to quickly add other networks in the future because it is a worldwide corporation and different networks are prevalent in various regions of the world. Additionally, the networking solution had to work with legacy hardware, be durable enough for marine environments, and process real-time data communication quickly.
Anybus is a product line from HMS Networks that specialises in connecting industrial devices to any significant industrial network. Any significant Fieldbus or industrial Ethernet network, including PROFIBUS, PROFINET, and CANopen networks, can be integrated with a CompactCom device.
In this case, the sensor's receiver, the CompactCom, is integrated into the pertinent equipment. The embedded architecture offers a number of advantages. The time to market for new items is shortened because it is easy to install. BTG can retrofit new electronic control systems to existing cranes by reusing historical equipment. In order to ensure that the equipment can withstand the extreme circumstances seen in marine locations, the CompactCom can be placed in an IP67-rated container.
With up to 1448 bytes of process data moving in each way, the Anybus CompactCom offers high-performance data exchange that can handle even the most demanding synchronised motion applications.
Daan Potters, chief operating officer at BTG, said, "We chose the CompactCom B40, and we're pleased we did."
"The CompactCom B40 solved all our networking needs, it's compatible with all the required networks, and it provides real-time communication, which is essential in position measurement systems. Anybus also provided excellent support to help us to implement the CompactCom B40 as quickly as possible."