The expansion of DP World's container Terminal 2 at Jebel Ali Port will be completed during the first half of 2013, the port operator has revealed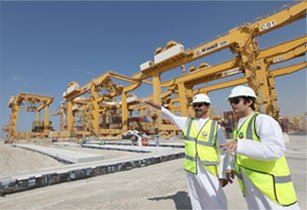 Ahmed Bin Sulayem and Ali Ahmed visit the construction site at Terminal 2. (Image source: DP World)
The Terminal 2 expansion project will add one million TEU (twenty foot equivalent container units) of capacity to the facility and, according to DP World, 60 per cent of the construction work has already been completed on the expansion.
Work has also started on the new US$850m four million TEU capacity Terminal 3, which has been scheduled to open in 2014.
DP World chairman Ahmed Bin Sulayem remarked, ?We continue to be committed to expanding our terminals to match market demand. The developments mean Jebel Ali Port will be able to handle 10 of the next generation 18,000 TEU mega vessels at the same time, becoming the only port in the region able to do so."
The Terminal 2 expansion will also extend the quay wall from 400 metres to 3,000 metres and will allow the simultaneous handling of six 15,000 TEU mega ships.
Bin Sulayem added, "Work on the quay wall is nearly finished, with 99 per cent of the quay wall blocks in place."
Once completed Terminals 2 and 3 will take total capacity at Jebel Ali port to 19mn TEU by 2014 and will also help create an extra 1,000 jobs.