Al-Ahlia Heavy Vehicles Selling & Import Co, exclusive importer of MAN Truck & Bus in Kuwait, opened its newest facility for MAN trucks in the Middle East located in the heart of the commercial business district of Kuwait, covering an area of over 16,000 sq m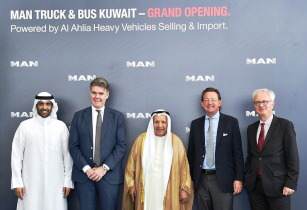 (Fourth from left) Franz von Redwitz, managing director of MAN Truck & Bus Middle East, at the opening. (Image source: MAN Truck & Bus)
Commenting at the opening ceremony, Fahad Ali Alghanim, vice-chairman, Al-Ahlia Heavy Vehicles Selling & Import Co, said, ?Our partnership with MAN Truck & Bus has been exemplary over the past 13 years. We grew from a humble market share of five per cent before the partnership between Al-Ahlia and MAN began to an average of 35 per cent over the last decade, selling over 2,300 trucks and 150 marine engines in Kuwait since 2005. Today, with this facility, Al Ahlia is committed to steadily increase MAN?s market share and become the market leaders.?
The new showroom and service centre seeks to reinforce MAN?s leadership vision in Kuwait?s commercial vehicles industry. The 4,000 sq m workshop, 1,750 sq m parts warehouse and 6,000 sq m storage facility for trucks will ensure that customers get top-notch service and that a much wider range of genuine spare parts are immediately available.
The facility includes a service advisory reception, where customers can inquire about different products and services, such as ProfiDrive, MAN genuine spare parts, and MAN service quality, a multilevel spare parts warehouse and workshop, among others.
?We have always been particular about not only delivering high-quality products to our customersbut also ensuring excellent after-sales support. Our significant investment in the new facility is the outcome of our unshakeable commitment to offering our valued customers increased convenience and unlimited access to world-class products and solutions,? Alghanim continued.
Joachim Drees, CEO of MAN Truck & Bus AG, added, ?The new state-of-the-art showroom is an important milestone in MAN Truck & Bus? journey as it enables us to further deepen our presence in the Middle East, one of our key focus markets.?
Franz von Redwitz, managing director of MAN Truck & Bus Middle East, stated, ?As one of the fast-growing commercial vehicle markets, the Middle East offers an excellent opportunity for us. We remain fully focused on this market and direct investment in new facilities demonstrates our long-term commitment and expansion across the region. The opening of this facility is a landmark achievement in our long-standing partnership with Al-Ahlia Heavy Vehicles Selling & Import Co. and I thank our exclusive partner for its constant support since 2005.?