Al-Futtaim HINO, an Al-Futtaim Automotive company that exclusively franchises light, medium and heavy-duty HINO trucks in the UAE, has announced the delivery of a major order of 200 HINO trucks to the National Food Product Company (NFPC)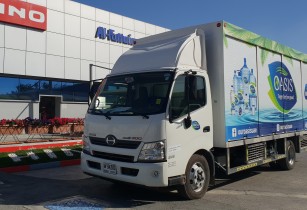 Deal grows NFPC fleet to 450 HINO trucks. (Image source: Al-Futtaim HINO)
Al-Futtaim HINO, which has increased its market share by around 300% in the past five years, has been the preferred mobility partner for many FMCG companies, thanks to HINO?s Japanese quality and reliability and Al-Futtaim?s dedicated aftersales support.
With the latest handover, NFPC?s fleet of HINO trucks grows to 450 HINO trucks, following a similar deal of 250 trucks in 2019.
NFPC is one of the premier food and beverage companies in the Middle East with brands such as Oasis Water, Blu, Lacnor, Safa, Gulf & Safa, Melco, Milco, Royal Bakers, Aqua fresh amongst others. The company will use the HINO 916XLWB_6TON trucks to boost its delivery operations which include water shutters, chillers and freezers.
?With this deal, we are further cementing our strong relationship with NFPC whose fleet primarily consists of HINO trucks,? said Ramez Hamdan, general manager, Al-Futtaim HINO. ?The COVID-19 pandemic has resulted in a huge boost to e-commerce and this has had a corresponding increase in our light-duty truck sales which now makes up 65% of our sales primarily to FMCG and logistics operators.?
The 200 HINO trucks will be custom-fitted by Al Furat to meet the specific requirements of NFPC and which adhere to UAE safety standards.
The HINO line-up in the UAE consists of light-duty 300 series, medium-duty 500 series and heavy-duty 700 series.