Emirates Motor Company (EMC) has signed an exclusive contract with TITAN Spezialfahrzeugbau GmbH to represent the German company in the UAE market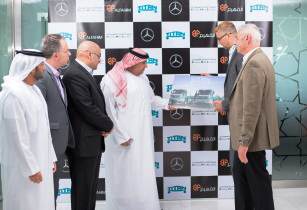 The partnership agreement was signed at an official ceremony held at ALFAHIM headquarters on 29 August. (Image source: EMC)
EMC, authorised Mercedes-Benz distributor in Abu Dhabi and the flagship company of ALFAHIM, will now be providing heavy-duty trucks, parts, and services to TITAN vehicles.
TITAN Spezialfahrzeugbau GmbH is one of the leading manufacturers of heavy-duty and special purpose vehicles in the world and supplies hundreds of vehicles for operations on oilfields and mines throughout the MENA region.
Bilal Al Ribi, general manager of EMC Commercial Vehicles, said, ?We are pleased to be the first organization in the region to represent TITAN as this shows the trust our clients have in our product and service quality, as well as our excellence in aiming for only the best.?
Paul Semm, sales manager of TITAN Spezialfahrzeugbau GmbH, added, ?Being so heavily involved in the Middle Eastern market and the UAE, in particular, is a fantastic achievement for TITAN.
?In order to grow our involvement further, it is important we partner with strong local firms who can offer the quality of products and services our customers expect; therefore, we are delighted to have started with EMC Daimler Commercial Vehicles.?
Both EMC Daimler CV and TITAN will be participating in the ADIPEC 2017 from 13-16 November, where they will be showcasing one of their high-demand trucks in the region.