Ford Trucks, along with the official importer-dealer in the UAE, Al Tayer Motors, is showcasing its 2017 line-up of the powerful Construction Series, including the 4143M and 3543M mixers alongside the 1843T tractor, at the Big 5 Exhibition in Dubai from November 21 ? 24, 2016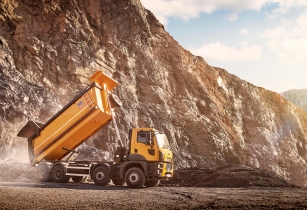 One of Ford's latest offerings on display at the Big 5. (Image source: Ford)
Powered by the new Ford Ecotorq engine family, the 2017 Construction Series now comes with greater power and more efficiency than ever to ensure customers can continue with their daunting tasks. With over fifty-five years of manufacturing expertise, Ford Trucks are tailored to meet the specific requirements of the Middle East market.
Having an ambitious growth strategy and team, the firm has also announced plans for establishing a new office in Riyadh, Saudi Arabia, to further strengthen its presence in the region. Currently, the headquarters of Ford Trucks for the Middle East region is based in Dubai.
Emrah Duman, International Markets Director, Ford Trucks, said, ?Although this year the construction sector was more dynamic in terms of new upgrades and innovations, the transport sector in the UAE is very healthy. Especially because of the oil prices, the transportation sector was not as demanding compared to 2015, in 2016.
?We are at a growth stage now and we are not changing any strategy. Of course, we are adjusting to market conditions. We are not changing plans to penetrate into the new market. We are investing in our dealer facilities and organizational strategies. Offering a balanced blend of features, Ford Trucks Construction Series lands on construction sites with a single purpose to make your project more durable and efficient.?
2017 Ford Trucks Construction Series
Launched now in the GCC, the responses are already positive in other markets where the vehicles have been previously released, according to Duman.
Offering comfort and exceptional uphill traction on rugged terrain, the 2017 Ford Trucks Construction Series now delivers a whopping 430 PS and 2.150 Nm of torque with the new Ecotorq engine, a significant improvement over the previous generation which delivered 350 PS and 1.400 Nm of torque. The new 400 kW engine brake provides the driver with firm control while climbing steep slopes in earth-moving and cutting sites. The optional 600 kW Intarder option offered for even tougher conditions brings the total braking capacity to 1.000 KW, ensuring that the heaviest loads can be safely carried on even the steepest slopes and hills.
Designed for the most demanding construction site environments, with best-in-class sequence and efficiency, a new feature in the New Ford Trucks Construction Series is the automated transmission option. With off-road, rocking and economy modes, the automated transmission option assists drivers in keeping their vehicle sure-footed on virtually any terrain.
A twenty-two per cent improvement in turning radius over the previous generation significantly reduces the number of manoeuvres in tight site conditions, turning narrow spaces into a playing field for drivers.
The new 2017 Ford Trucks line up is on display at stand no OSC30 in the Big 5 exhibition taking place at the Dubai World Trade Center.