The Goodyear Tire & Rubber Company will launch the new Fuel Max LHD 2 in early 2021 for long-haul fleets aiming to improve fuel efficiency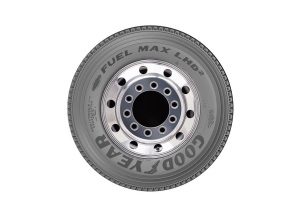 The Fuel Max LHD 2 also features Goodyear?s signature TredLock technology. (Image source: Goodyear Tire & Rubber)
?We are always looking for ways to ensure our customers get the best value from our tires. For long-haul fleets, that means developing a tyre that can offer fuel efficiency and accommodate the extensive miles they travel,? said Devin Dickerhoof, product marketing manager. ?Advanced casing compounds help make the Fuel Max LHD 2 Goodyear?s best long-haul tyre for fuel efficiency and an excellent solution for fleets looking to lower their cost per mile.?
This new drive tyre is designed with a fuel-focused tread compound combination that delivers low rolling resistance that meets the Phase 2 Greenhouse Gas Emissions and Fuel Efficiency Standards and is verified by SmartWay.
The Fuel Max LHD 2 also features Goodyear?s signature TredLock technology, which includes double-corrugated blades that help ensure that the tyre is worn evenly and maintains traction over time giving it the Three-Peak Mountain Snowflake designation. Finally, its premium enhanced housing construction allows for maximum retreadability.
In early 2021, the Fuel Max LHD 2 is expected to be available in size 295/75R22.5 (Load Range G) with the 11R22.5 (Load Range G) size releasing thereafter.