IVECO has partnered with Al-Futtaim Misr for Car Trading (FAMCO) for the on- and off-road vehicle dealership network in Egypt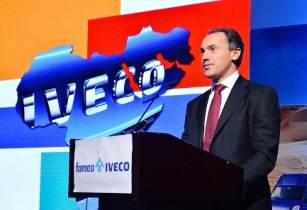 Fabio De Serafini is IVECO Africa and Middle East business director. (Image source: IVECO)
This was announced at an event in Cairo on 4 April, which attracted both specialist publications and more than 200 customers from across the country, representing governmental establishments, municipalities, construction businesses, quarries, transport operators and other operations interested in the brand?s latest generation of vehicles.
IVECO also presented its full range of vehicles, from light to heavy, to industry professionals and decision makers attending the customers? day.
The brand is growing its presence in the Middle East and is working to enhance its market position. Egypt is a priority for the brand since it represents the largest market in the Middle East, with a strong economy, according to the company.
Nigel Johnson, senior managing director, FAMCO Group, said, ?As part of our strategic expansion plans and in line with Al-Futtaim Automotive Group?s strategy ?Customers and Vehicles for Life?, we were quite interested to get into a partnership with a reputable brand such as IVECO, which has a deep understanding of the area?s transportation needs for both on-road and off-road and provides a wide range of products offerings to the transportation sector. The medium and heavy ranges represent IVECO?s core business in the Middle East region. The company is aware that the needs of fleets are changing, as well as the types of vehicles required, and IVECO?s off-highway and on-highway ranges offer a superior choice for fleet owners.?
Nabil Naga, general manager, FAMCO Egypt, added that in line with Al-Futtaim Automotive Group?s philosophy of being the customers? preferred choice, the company have decided to invest in establishing a state-of-the-art facility in Cairo?s Abu Rawash in an area of 15,000 sq m. ?This facility which is operated by our highly skilled sales and after-sales professionals in order to provide our customers with the highest level of support to their business needs. Our newly opened facility is equipped with a sophisticated equipment to ensure a full care of our clients? fleets.?
According to Fabio De Serafini, IVECO Africa & Middle East business director, ?We are extremely pleased with our partnership with FAMCO and the event that just occurred. We are sure that with FAMCO we will substantially improve the level of service to our customers in Egypt. IVECO is a brand that has proven itself able to take a bold approach to change over the years.
?Today?s launch in Egypt pursues the brand?s vocation as a major player on the international and multicultural stage, while continuing to focus on its core values: technology, total cost of ownership, sustainability and business partnership.?
IVECO is present in the Middle East with a dedicated and full range of models engineered for the local market. The brand operates across the area with 16 dealers and through more than 29 sales points. Moreover, more than 43 service points provide after-sales assistance to customers all over Africa.