MAN?s Trucknology Days will host 180 vehicles including the new MAN TG series in Munich from 23-25 March 2017, displaying the latest innovations in construction, distribution, long-haul and heavy-duty transport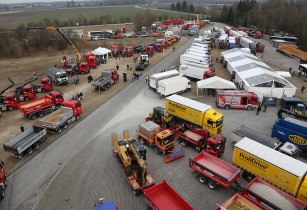 A huge variety of trucks for various sectors will be on display in Munich at the MAN Trucknology? Days, from 23 to 25 March, 2017. (Image source: MAN Trucks and Buses)
MAN Trucks and Buses have been running Trucknology Days as an in-house exhibition since 2008, and the 2017 show is expected to attract 7,000 visitors from all over the world.
Approximately 180 trucks will be available to view and drive over the three days. Experts will be available during presentations, for test drives and at the display vehicles in order to explain specific product features which make day-to-day work easier for businesses and drivers from the areas of construction, distribution, long-haul and heavy-duty transport, as well as municipal work. MAN Services, body manufacturers and suppliers will be on hand for open discussions at the MAN TruckForum as well as on the test track. In conjunction with RIO, the new brand for networked logistics, these will provide a glimpse of the connected performance of the transport sector of the future.
The chance to take a turn on the test track or on public roads in a variety of different models from the MAN product range is always popular. Experience has shown that there is always a great deal of interest in the plant tours through the production facilities of the MAN TGS and TGX model ranges.
The new TGE and RIO will make their first appearance at the MAN Trucknology Days. With a gross vehicle weight of 3.0 to 5.5 tonnes, the TGE extends MAN?s product range to the lighter end of the market. The Trucknology Days signal the beginning of sales for the new transporter. RIO presents itself as an open, cloud-based ?operating system? for all transport sectors.