With decades of experience in electric lift trucks development, Cat? Lift Trucks, and its strong dealer network are ideally placed to help business in the transition to battery power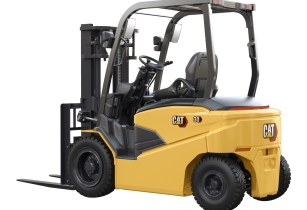 A comprehensive product portfolio of six electric counterbalance ranges and warehouse equipment includes the versatile and economical Cat EP10-35(L)CB range. (Image source: MLE B.V.)
The higher demand of electric forklifts is driven by regulations in the Gulf countries, especially in the food, beverages and pharmaceuticals industries as well as new customers? requirements in terms of health, safety and cost management.
?By reducing operating expenses and increasing uptime, electric forklifts will raise your productivity and profits. They will also give a long lifetime of service and maintain a high residual value,? explained Mamoun Mutair, product manager materials handling at M.A. Al-Bahar, the Cat? dealer in UAE.
Cat electric forklifts offer great durability and are backed up by the dependable service of the dealer network. Herve Quatrhomme, regional director AME, speaking from the Dubai office of Cat Lift Trucks, said, ?Our dealer network truly understands electric applications and can select the right models and configurations for each customer. They keep your trucks working, offering service contracts and rapid parts availability.?
?There is still a lack of knowledge that impacts the customer?s decision,? stated Raed Hunaidi, product manager material handling at Zahid Tractor, the Cat dealer in KSA. That is why it?s important to involve your dealer early in the purchase funnel and get the best advice for your business.
A comprehensive product portfolio of six electric counterbalance ranges and warehouse equipment includes the versatile and economical Cat EP10-35(L)CB range. With its successful EP25CB model (2.5 tonnes) with 48V batteries, which can compete in situations where others require a more expensive 80V battery to do the same job.