Scania, leading provider of transport solutions, has announced the launch of its new and complete truck range in the UAE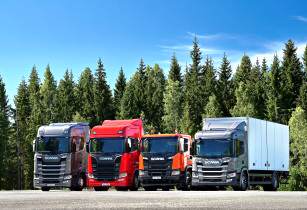 Scania has launched its new truck generation in the UAE in full range ? long-haulage, urban, and construction (XT) applications. (Image source: Scania)
Scania?s new truck generation is extending its offering, and can now, with its unique modular system, supply more performance steps, connectivity, and a comprehensive palette of productivity-enhancing services as well as customised transportation solutions.
With the complete new truck range, Scania is setting a new standard for what is premium in the transport industry. The result of ten years of development work and investments of around US$2.84bn, the new truck generation builds on the values, strategies and innovations.
Loaded with enhancements, the new truck range further improves Scania?s already strong fuel performance due to factors such as improved powertrains and better aerodynamics. Another notable feature is the availability and offering of 24 different cab models. With driver?s safety at the forefront of Scania?s goals, the new truck range also provides the world?s first rollover side curtain airbag.
Speaking on the launch of the new range in the UAE, ?zcan Barmoro, managing director of Scania Middle East, said, ?Scania?s new truck generation aims to drive the evolution of the transportation industry in line with the ambitions of the UAE National Agenda 2021. Inspired by our core value of putting the customers first, global trends and challenges, this generation of trucks is designed to better meet the needs of our customers and the world we live in. It has efficiency in both fuel economy and performance incorporated into a design inspired by the Scania heritage. Our new truck range will contribute to the ambitions of the UAE to become a sustainable nation, powered by smart technology solutions.?
Thani Al Shirawi, CEO of Al Shirawi, distributor for Scania in Dubai and the Northern Emirates, added, ?Scania?s trucks are popular in Dubai and the Northern Emirates due to their robustness and reliability, as well as the sales and aftersales service support, extended 24x7 by Al Shirawi's highly competent factory-trained team. It enables customers to experience the value of the advanced design and quality which is built ?for the only business that matters, Yours?. With the arrival of the new truck generation, Scania offers tailor-made, better solutions than ever before which is a result of a deeper understanding of our customers? businesses. We welcome the new range of Scania trucks and are anticipating a strongly positive response from our customers.?
Scania has been at the forefront of the region?s transport sector for more than four decades providing outstanding fuel efficient and optimised vehicles, fully customised and adapted to the requirements and operating conditions of the Middle East.