Last night, UD Trucks unveiled the new Quester for the Middle East, East and North Africa (MEENA) in a glitzy ceremony in Manama, Bahrain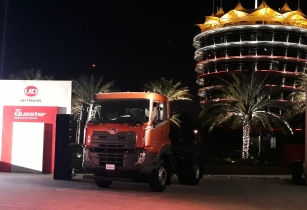 The new trucks are currently under production and will be available by end of this year.
This new version of the brand?s well-established heavy-duty truck introduces a range of enhancements that will enable logistics companies across the region to tackle critical industry challenges and boost their bottom line through smart logistics.
Fuel efficiency, productivity, connectivity, and supporting and developing drivers are top priorities for fleets and transport companies in the MEENA region and New Quester will address these challenges with new features such as ESCOT (Easy Safe Controlled Transmission) and UD Telematics.
To be introduced in fast-growing regions around the world, the launch of new Quester highlights UD Trucks? commitment to ?Going the Extra Mile? for customers? businesses, according to Mourad Hedna, president of UD Trucks MEENA.
The 2019 edition of Quester introduces key features such as ESCOT automated manual transmission, engines with higher horsepower and user-friendly telematics to deliver greater fuel efficiency, productivity, driver efficiency, safety and uptime.
?The truck industry in the region is changing rapidly and customers are increasingly conscious of the total cost of ownership. With New Quester we have the ideal product to address these needs. Moreover, New Quester combines the best of three worlds: UD Trucks? strong Japanese heritage and craftsmanship; Volvo Group?s innovative technology; and our strong local support for our valued customers, which we call our Gemba spirit.?
Ensuring increased fuel efficiency for businesses to better manage fuel costs and mitigate oil price volatility
The new Quester aims to boost productivity and profitability for business owners and logistics companies, for whom a rise in fuel costs consequently increases operating costs. It delivers enhanced fuel efficiency of up to 10 per cent over the current Quester. This is aided by the ESCOT automated manual transmission, lighter tare weight and optimised driveline, and is also affected by the operating conditions, driving behaviour and vehicle maintenance.
ESCOT includes software, which optimises gear shifting according to the engine revs, vehicle speed, loading weight and even road gradient. The smart system also includes a sensor that will select the optimum gear automatically instead of assuming a first gear selection.
The enhanced fuel performance also aligns with the increasing global focus on curbing fuel consumption and meeting environmentally-friendly regulations in relation to emissions quality standards, all of which effectively reduces the new model?s overall carbon footprint.
A game changer in the transportation business, New Quester with ESCOT automatically selects the optimal gear at the right time based on the operating condition. This takes away the need for manual gear shifting which, depending on the transportation operations, happens up to 1,500 times a day. ESCOT?s automated gear selection also enables drivers to easily adapt to operating the Quester and better focus on driving with ease.
Driver fatigue continues to be a serious industry challenge, contributing to up to 20 per cent of road accidents in the world. To address this, New Quester is developed with an air suspended cab and ride comfort package, which reduces cab vibrations by up to 18 per cent. Driver comfort is also enhanced by the ergonomic seats and lumbar support for long-distance assignments.
In line with elevating business success through smart logistics, the new Quester supports effective fleet management and driver performance with innovative customer telematics such as real-time vehicle tracking and geo-fencing for better fleet visibility and optimisation. Such smart connectivity features support the increasing trend of new logistics delivery solutions that are offered by technology and local start-up companies in, for example, the Middle East.
The upgraded trucks are equipped with UD Telematics, which make it possible to connect directly to UD Trucks workshops to monitor and detect each vehicle?s condition and service needs before a potential emergency occurs. Preventive maintenance analysis guides customers via monthly driving behaviour and fuel consumption reports, ensuring higher uptime and optimised fuel economy over time.