Volvo Trucks will be introducing new solutions at the IAA Commercial Vehicles show in Hannover, Germany, from 20-27 September 2018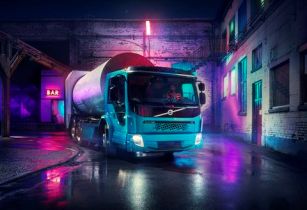 Volvo Trucks will be introducing new and innovative solutions at the IAA Commercial Vehicles show in Hannover, Germany at Hall 17, Stand A05. (Image source: Volvo Trucks)
During the international exhibition for mobility, transport and logistics, Volvo Trucks will showcase its latest developments in the field of alternative drive systems. In addition, an innovative automation project will be on display, said the Swedish truck manufacturer.
Electric trucks
Volvo Truck?s introduction of the latest products at the IAA comes ahead of the company?s objective to start selling electric trucks in Europe in 2019. At the IAA, Volvo will showcase the Volvo FE Electric. According to the company, the model is a waste disposal truck with a body that has been built in collaboration with Faun, Europe's leading manufacturer of refuse truck bodies.
?Electric mobility is an important part of our long-term commitment to sustainable urban development and zero emissions,? said Claes Nilsson, president of Volvo Trucks.
Electric trucks are much quieter and cleaner than their diesel-engined counterparts and are ideal for use in indoor terminals and environmental zones, said Volvo. ?There is significant market interest in trucks with electric drives. A large number of potential customers have enquired about the opportunities that the new technology has to offer and what this means for their businesses,? stressed the company.
LNG trucks
Volvo will display the new Volvo FH LNG during the exhibition. The product, running on liquefied natural gas (LNG), is for regional and long-haul heavy goods transport and produce 309 or 338kW.
Volvo explained that the LNG trucks have the same power output and the same driveability as the diesel-powered models. At the same time, the CO2 emissions of the long-haul truck model are between 20 and 100 per cent lower than diesel vehicles, depending on the fuel used.
On the Hall 17, Stand A05, Volvo will provide information about the company's automated driving project, which is being presented to the general public for the first time. There will be a separate area devoted to the new Volvo Connect customer portal, which has recently been announced and will be on display for the first time at the IAA.
Volvo has created the Volvo FH 25 Year Edition to celebrate the 25th anniversary of the market launch of the Volvo FH in 1993. Two models have been available since June 2018 including the Volvo FH and the Volvo FH16.
Some of the prominent Volvo Trucks vehicles that will be on show at the IAA 2018 include Volvo FH 25 Year Edition, 4x2 tractor unit, D13 with 540 hp, Globetrotter XL cab, I-Shift dual clutch, Volvo Dynamic Steering Volvo FE Electric, Globetrotter cab, Volvo Dynamic Steering FH16, 8x4 heavy-duty tractor unit, Globetrotter XL cab, Sleeper cab, Huttner timber body with Palfinger crane at the back, Meiller three-sided tipper body, Volvo dynamic steering, I-Shift, Steered tag axle and others.