HH Sheikh Khaled Bin Mohamed Bin Zayed Al Nahyan, member of the Abu Dhabi Executive Council and chairman of the Abu Dhabi Executive Office, has launched the Abu Dhabi Industrial Strategy to strengthen the emirate?s position as the region?s most competitive industrial hub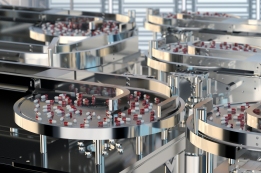 Abu Dhabi Government will invest AED10bn across six transformational programmes to more than double the size of Abu Dhabi?s manufacturing sector to AED172bn by 2031. (Image source: Adobe Stock)
Abu Dhabi government will invest US$2.7bn (AED10bn) across six transformational programmes to more than double the size of Abu Dhabi?s manufacturing sector by 2031 by increasing access to financing, enhancing ease of doing business, and attracting foreign direct investment.
The strategy will also create 13,600 skilled jobs, with a focus on Emirati talent, and boost Abu Dhabi?s trade with international markets, with a goal to increase Abu Dhabi?s non-oil exports by 143% to AED178.8bn by 2031.
A number of initiatives, including a new circular economy regulatory framework, as well as new green policies and incentives, will help continue Abu Dhabi?s transition towards a smart, circular economy, powered by an industrial sector that champions responsible production and consumption across waste management, parts supply, and manufacturing.
HE Mohammed Ali Al Shorafa, chairman of the Abu Dhabi Department of Economic Development (ADDED), said, ?Abu Dhabi?s blueprint for a comprehensive industrial strategy is an ambitious vision that will guide the future of the emirate?s manufacturing sector, and shape a resilient and diversified economy for decades to come. In line with the UAE?s industrial strategy, Operation 300bn, our roadmap will create the ideal environment for businesses to emerge and grow. It addresses our ever-growing productivity goals, helps secure future investor opportunities, safeguards our human capital and boosts job creation, and enables us to pre-empt evolving market conditions and shifting trends.
"The Abu Dhabi Industrial Strategy, which includes plans for a smart circular economy, catalyses value creation and ensures cost competitiveness. And with the combination of Abu Dhabi?s enabling public-private partner business ecosystem and investor-friendly regulations, we are ushering in a new era of economic growth.?
While enhancing sustainability across the ecosystem in line with the UAE Net Zero by 2050 and the National Climate Change Strategy, the manufacturing industry?s ongoing evolution will be accelerated by the integration of advanced Industry 4.0 technologies to spur growth, competitiveness and innovation.
The strategy?s initiatives will also advance the emirate?s development into a global hub for future industries, with a focus on seven targeted manufacturing sectors: chemicals, machinery, electrical power, electrical equipment, transportation, agri-foods, and pharmaceuticals.
Alongside the launch of the strategy, several new industry partnerships were signed, with companies and organisations including MADE Competence Centre I4.0 (Italy), T?V S?D (Germany); ADNOC and National Oilwell Varco (NOV); and ADNOC and Ingenia Polymers.