Emerson Process Management?s facility in Jubail, Saudi Arabia, has been expanded to include production, testing and servicing of pressure reducing regulators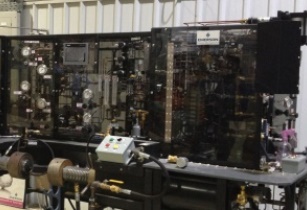 The Jubail facility now has the capability to deliver an annual production capacity of 2,500 Fisher pressure reducing regulators. (Image source: Emerson Process Management)
Opened in partnership with Saudi FAL in 2011, the facility now has the capability to deliver an annual production capacity of 2,500 Fisher pressure reducing regulators, which are used in a variety of applications such as process and specialty gas processing, natural gas distribution, and fuel gas supply.
?The expansion of this facility in Jubail represents Emerson?s first regulator manufacturing capability in the Middle East,? said Steve Robinson, director of Emerson Process Management, Regulator Technologies in Middle East & Africa.
?It is a testament to our commitment to be closer to our customers and more closely aligned with their requirements.?
The facility also has the capability to undertake full assembly and testing of Emerson?s regulators, as well as provide repair and calibration services.