sedak GMBH, German glass manufacturer, has announced to present its new IGU product line ?sedak isomax? and an example of an all-glass-fa?ade construction at booth SS3 D67 at the Big 5 event, which will take place in Dubai from 26-29 November 2017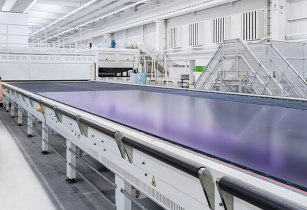 New tempering furnace with coated glass before the tempering process. (Image source: Sedak)
According to the company, the glass samples aim at demonstrating company?s high-level production competence.
In addition, during the exhibition, the visitors can also catch up on sedak?s latest announcement to produce ?the world?s biggest glass? in up to 3.51m x 20m by 2018, as announced by Bernhard Veh, CEO of sedak.
Aiming to developing high production knowhow, sedak supplies glass up to 16.5m. Some of the current projects of the company include UNO in Geneva, the Apple headquarters in Cupertino and the House of European History in Brussels.
Since 2007, the Bavarian manufacturer focuses on fabricating oversize glass and for that, it is constantly investing in R&D. In 2017, Sedak developed second tempering furnace that processes oversize pre-coated glass.
Veh said that from mid-2018, the company will be able to produce glass in the dimensions of 3.51m x 20m.
More than 300,000 suppliers and buyers of construction products from around 120 countries are expected to join at the biggest construction event in the Middle East region this month. The event will represent five big industry sectors such as construction, glass and metal, water technology and environment, air conditioning and refrigeration engineering and cleaning and maintenance.