McDermott International has celebrated a major milestone with the load-out and installation of the first jacket, fully fabricated by the Company at its recently opened Dammam fabrication yard in Saudi Arabia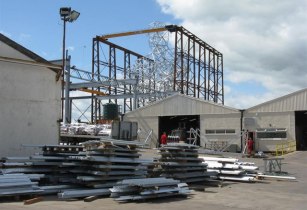 An example of a fabrication yard. (Image source: Antony Gormely's Exposure/Geograph)
The Safaniya 264 Jacket is part of McDermott?s Long Term Agreement II (LTA II) scope of work with Saudi Aramco. The current scope of work being done at the Dammam yard covers four jackets, eight bridges, and more than 70 subsea pipeline spools, as well as onshore support work.
The Dammam facility was opened in 2016 to support McDermott?s growing Middle East operations and expand the Company?s regional capacity. It reflects McDermott?s commitment to supporting Saudi Arabia and key client Saudi Aramco in their localization efforts.
Since inauguration in August 2016, the yard has completed more than 600,000 man-hours without a Lost Time Incident (LTI), further contributing to the 50 million man-hours LTI free McDermott recently achieved across the Middle East region.
?The load-out of the first jacket from our Dammam fabrication facility marks another milestone in McDermott?s long term commitment to Saudi Arabia and their Vision 2030,? said Linh Austin, McDermott?s Vice President of Middle East and Caspian. ?Not only have we delivered our first jacket from our new facility, we?ve done it to Saudi Aramco?s schedule; all with no lost time incidents.?
The jacket has been installed in the Safaniya oil field, located 125 miles (200 km) north of Dhahran in the Arabian Gulf, by McDermott?s Derrick Barge 32 vessel.
McDermott has extensive experience offshore Saudi Arabia, having worked in the region for more than 50 years. In 2015, McDermott won a lump sum contract from Saudi Aramco for brownfield work, which was the largest single award for McDermott?s Middle East Area operations in Company history. More recently, McDermott was awarded an EPCI contract for four jackets and three gas observation platforms, the third fast-track project awarded to McDermott by Saudi Aramco in the past 18 months.
This milestone follows McDermott?s recent announcement that it had signed a strategic Memorandum of Understanding with Saudi Aramco for a long-term land lease at the new maritime facility at Ras Al Khair in Saudi Arabia, currently being developed by Saudi Aramco.