The companies signed an agreement in Saudi Arabia to collaborate in engineering and procurement activities in the kingdom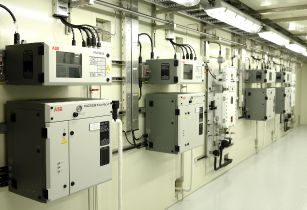 Together, the two companies plan to explore business opportunities and provide complete analytical solutions to the Saudi oil & gas market. (Image source: ABB)
This framework allows ABB to become a single-source vendor for gas analyser system integration for Samsung in Saudi Arabia.
Together, the two businesses want to look for commercial prospects and give the Saudi oil and gas sector comprehensive analytical solutions.
Direct-read continuous gas analysers, online gas analysers employing laser analytical methods, quick response process gas chromatographs, and more are all part of ABB's portfolio of analytical equipment. ABB aims to offer fully customised analytical systems and solutions in addition to analytical systems. These services range from basic engineering through manufacturing, testing, field start-up, and support.
The 10,000 sq m analytical system integration centre that ABB is constructing in Dammam will assist the partnership. The facility is anticipated to take the lead in the region's manufacture of analytical systems.
The Aramco Jafurah phase 1 project was one of numerous projects on which ABB and Samsung Engineering collaborated. They are prepared to service clients in Saudi Arabia thanks to this arrangement.
"ABB is committed to helping customers in the energy transition. Between ABB and Samsung Engineering, we have an impressive portfolio that demonstrates technology expertise and technical capability. With this agreement, we are capable and ready to serve customers in Saudi Arabia," said Javier Suárez Díez, global system integration manager at ABB.