The region?s first-ever electric vehicle (EV) and battery logistics hub opened in Dubai?s Jebel Ali Free Zone has been built by DHL Global Forwarding and developed in close cooperation with the EV team of DHL Customer Solutions & Innovation (CSI)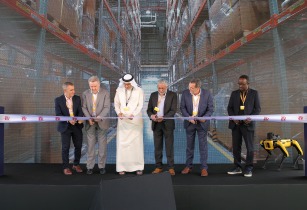 DHL team inaugurates the region?s first facility for EV batteries and other dangerous goods. (Image source: DHL Global Forwarding)
The 23,500-sq m warehouse includes a dedicated EV battery storage area, which will be expanded to 2,000-sqm later this year.
Fathi Tlatli, president global auto-mobility cector, DHL CSI, commented, ?It is extremely exciting for the DHL team to inaugurate the region?s first facility for EV batteries and other dangerous goods. This Center of Excellence complements our global EV logistics network and reflects our global experience matched with local expertise. It supports the UAE's and Middle East?s transition to the circular economy by ensuring a consistent supply chain for sustainable mobility solutions.?
EVs are a critical to decarbonise the transport sector. The EV market is expected to grow six times its size over the next ten years, on the back of surging EV sales. More than half (55%) of new car sales by 2040 are projected to be EVs.
Samer Kaissi, country manager, Dubai and Northern Emirates, DHL Global Forwarding, said, ?We design compliant and cost-efficient supply chains that support EV development in collaboration with customers. DHL has a track record of responsible EV battery stewardship in an end to end perspective. Across the Middle East, DHL is meeting customer needs for EV logistics by leveraging global best practices with specific regional requirements in an agile and scalable manner.?
Powered by DHL?s Team EV, EV logistics in the region can now be more flexible and agile. Compliant, safe, and scalable, DHL?s Dubai facility is custom designed for handling and storing EV material including batteries, charging equipment, and other dangerous goods. DHL customers can share this multi-user facility, making it a cost-effective alternative to owning a specialist warehouse.
The hub enables the EV circular economy ? batteries can be stored, recycled, repaired, and processed at end of life ? ensuring long-term sustainability. DHL customers can simply plug this solution into their existing supply chain, thus generating long-term sustainability benefits for the region. The 23,500 -sqm facility provides end-to-end aftermarket solutions for EV batteries.