Emirates Central Cooling Systems Corporation PJSC (Empower), the world's largest district cooling services provider, held the first meeting with its key customers for the year, aimed at highlighting the new developments in district cooling sector and educating on Empower's practices in the district cooling operations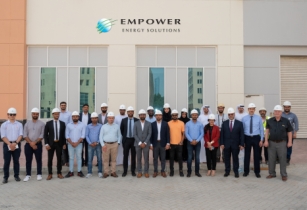 During the meeting, professional leaders of Empower highlighted the sustainable business model developed by the company using national and international expertise. (Image source: Empower)
The company also showcased its advanced technologies used in the production and distribution of chilled water, and discussed different ways to apply its modern systems to enhance the district cooling services provided to the public.
During the meeting, professional leaders of Empower highlighted the sustainable business model developed by the company using national and international expertise. The meeting also featured a discussion with the customers on many revolutionary ideas, challenges and opportunities that the company has experienced and explored over the past years. It also presented the challenges it faced upon applying its proactive plans to invest in modern technologies to ensure a complete, integrated, reliable and sustainable ecosystem in all stages of district cooling, which contributes to providing services with standards that exceed their global counterparts.
Empower concluded the key customers meeting with a field tour, which included a visit to the Dubai Healthcare City District Cooling Plant, to brief the attendees on one of company's unprecedented success stories in securing environmentally friendly and sustainable cooling services with economic, social and climatic gains in line the directions of the nation and the city, in transforming to a green economy.
Ahmad bin Shafar, CEO of Empower, said, "Our customers are integral partners in our mission to transform the cooling sector into one that is energy-efficient and environmentally friendly. Meeting the key customers and updating them on the new developments in the sector is highly effective in strengthening our relationship. Our ultimate goal is to develop new visions for the district cooling industry and to achieve significant economic, social, environmental, and climatic gains.
"At our core, we prioritise extensive research and continuous development in all aspects of district cooling operations. We dedicate ourselves wholeheartedly to embracing cutting-edge innovations, ensuring that we actively contribute to the national innovation strategy. Simultaneously, our unwavering commitment lies in consistently delivering exceptional quality services to residents, developers, and building owners," concluded Bin Shafar.