Schneider Electric has signed an agreement with regional systems integrator Origin Systems to provide consultancy and expertise to Gulf-based manufacturers who are looking to upgrade their factories through the latest technologies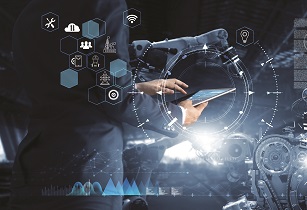 The smart factory concept is a shift away from traditional automation to a fully connected and flexible system. (Image source: Adobe Stock)
The intent is to provide businesses in the region with a path to upgrading their manufacturing to Industry 4.0.
The smart factory concept is a shift away from traditional automation to a fully connected and flexible system that makes use of masses of machine-derived data streams from internet-connected operations and systems to learn and become more efficient. A smart factory collects and analyses data from every part of the operation in real time to improve all activities throughout the entire facility and the supply chain.
Headquartered in Toronto, Origin provides ?end to end? traceability and digitisation services worldwide. The company has a significant presence throughout the Gulf, the wider Middle East and Africa; Origin has a regional hub in Egypt and partnerships network across the region. Origin Systems seeks to enable sustainable business growth through value chain digitisation across various industrial sectors.
?The future of manufacturing is Industry 4.0, and we are eager to work with Schneider Electric to support companies throughout the Gulf deploy technologies that will make their facilities smarter, more efficient and more sustainable,? said Sherif Abdelhakam, CEO, Origin Systems Middle East. ?This agreement is a first step in transforming manufacturing capabilities across the region.?
Technologies such as the Industrial Internet of Things (IIoT), Edge Computing and 5G can help businesses realise smart manufacturing. Progressive organisations have the opportunity to pioneer technology adoption that is going to drive regional economic growth and achieve new levels of efficiency in manufacturing.
?Industry is under growing pressure to be more agile and sustainable whilst reducing costs,? said Mohamed El Khateb, CPG Segment leader Middle East and Africa at Schneider Electric. ?The technological innovations of the Fourth Industrial Revolution hold great promise to meet these challenges. We?re excited about what our partnership with Origin holds for us and our customers throughout the Gulf region.?