Saudi-based Idea Polysilicon Company (IPC) has signed an agreement with Germany's Centrotherm Photovoltaic to help develop a US$1.06 billion industrial complex in Yanbu.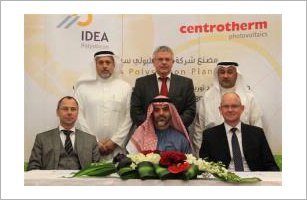 Idea has signed an agreement with Centrotherm to develop a US$1.06 billion industrial complex in Yanbu.
As per the deal, Centrotherm will offer the technical know-how and basic engineering design for the upcoming polysilicon and solar wafers manufacturing complex.
Largest manufacturing facility
The project will be the largest manufacturing facility in the Middle East for the production of highly-pure polysilicon with a total capacity of up to 10,000 tonnes per year, of which 2500 tonnes will be converted to solar wafers.
IPC plans to issue tenders for the engineering services and supervision of the project, said Marwan Al Ghurair, chairman of the board of Idea Polysilicon after signing the deal with Dirk Stenkamp, COO of Centrotherm Photovoltaic.
"During the past four years the company has worked with the relevant authorities to provide all the factors that will enable the project to succeed including the allocation of land for the plant, gas, provision of electricity and all other facilities necessary to operate the plant,' Al Ghurair noted.
Future plans
A memorandum of understanding was also signed to supply all the raw materials required for this industrial project. The company also has future plans to expand into the production of solar cells and panels as well as establishing solar powerplants, Al Ghuraiar added.