RECAPP, Veolia's digital recycling solution for individuals and businesses, has launched a new recycling deposit initiative and rewards scheme for implementing reverse vending machines (RVMs) in partnership with the Environment Agency – Abu Dhabi (EAD) and smart deposit machines (RSDMs) to increase the recycling reflex and boost the circular economy in the UAE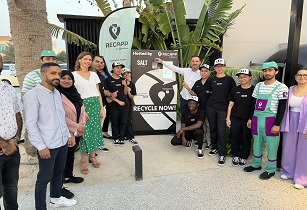 RECAPP RVM launch event: (Image source: Veolia)
The new digital solution comes as a complementary service to RECAPP's existing free app-based door-to-door collection service, where RVMs will be used to collect bottles and the RSDMs to collect bags of recyclables and is in line with Veolia's strategic vision to offer holistic digital recycling solutions that benefit both people and the planet.
In Abu Dhabi, RECAPP partnered with Masdar City and will implement the first Deposit Return System (DRS) with a reward scheme in the UAE. These Smart Deposit Machines (RSDMs) will allow RECAPP to collect an additional 20 million bottles and reinforce the UAE Government's target of recovering 50% of single-use plastic bottles.
At the same time in Dubai, RECAPP officially launched its first RVM connected to the app and offering several reward.
Jérôme Viricel, general manager of RECAPP at Veolia Near & Middle East, said, "We are thrilled to launch the next exciting chapter of RECAPP with the implementation of reverse vending machines and smart deposit machines in partnership with the Government of Abu Dhabi - Environment Agency, several brands and communities. Deploying this advanced bottle recovery infrastructure and setting up a deposit scheme that rewards recycling stems from our strong commitment to promoting a circular economy and sustainable consumption patterns that reduce environmental stress. We are confident that this new digital solution from Veolia will not only make it more convenient and accessible for individuals to dispose of their waste responsibly but also provide new momentum to the culture of recycling across the UAE as it celebrates the Year of Sustainability."
The RVMs provide an instant recycling solution and can recycle all types of plastic water and beverage bottles and cans. They work by recycling bottle by bottle and can be placed indoors or outdoors in high-traffic locations. All RVMs are connected to the RECAPP app and reward users with 150 points per recycled bottle, which is eight times more compared to the Door to Door incentive.
The RSDMs enable users to drop off their full bag of recyclables at convenient outdoor locations such as communities, supermarket parking lots, or petrol stations. The RSDMs are connected to the RECAPP app and reward users with 1500 points per 1 kg of recyclables deposited. RECAPP app users can redeem the points earned from RVMs and RSDMs against attractive vouchers from a wide variety of top brands – including groceries, fashion, and e-commerce.
RECAPP is available on iOS and Google Play as Go RECAPP, and the B2B recycling service is available at www.gorecapp.com.
To read about the launch of Veolia's RECAPP 2.0, click here.