Cummins Inc has completed the European grid code compliance (GCC) certification across it?s lean burn gas generator portfolio, becoming the first company to achieve this independent certification within the power generation space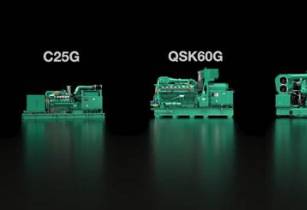 The Cummins C25G, QSK60G and HSK78G. (Image source: Cummins)
The Cummins gas generators that have obtained the grid code certification, range from 0.5-2MW, including generator models from the newly released HSK78G and C25G gas generator series alongside some models from the established QSK60G series. The capabilities of all gas generators have been tested, assessed and verified by an independent third-party certification body ? DNV GL based in Germany.
?Cummins has opted for impartial third-party certification as opposed to taking the self-certifying route as we are committed to provide high-quality and reliable products customers can depend on which are not only verified by Cummins but also certified by well-respected partners, such as DNV GL,? said Mark Duda, Cummins senior gas product manager.
To obtain this GCC certification, DNV GL in collaboration with a dedicated Cummins engineering team completed a considerable analysis which involved testing and recording hundreds of grid fault conditions while gas generators run in parallel with the UK National Grid. As a result, customers choosing Cummins gas generators for their installation projects, throughout Europe, can be assured that grid connection approval can be obtained easily and efficiently without any delays.
Additionally, Cummins has achieved certifications for Requirement for Generators (RfG), VDE 4110 Germany and G99 United Kingdom. Additional bespoke testing has been completed to ensure Cummins gas generators can comply with future regional codes expected to be released by other European members of state beyond the current GCC requirements. Consequently, customers are not required to complete additional testing and validation to meet European performance criteria.
?Equipment certification of three product families provides Cummins with the independent confirmation of compliance with the grid connection requirements. Particularly for entering new markets, this is an important step for efficient network access and resource use that will be contributing towards grid stability when expanding decentralised power generation share,? said Bernd Hinzer, head of grid code compliance certification at DNV GL ? Energy.
With a power density of up to 2MW, Cummins lean-burn gas generators are designed to provide reliable power for a diverse set of industries from mining and manufacturing to shopping malls and hospitals; pushing the boundaries of efficiency and performance whilst achieving a low total cost of ownership. The barrier-breaking fuel flexibility offered across the range, enables the utilisation of low-cost, low-BTU and free fuel sources, that would otherwise be considered waste products, delivering robust power with minimal derating.