Inmesol Technology has demonstrated the genset market trends within rental sector, saying that the market is segmented according to end-use applications and that the rental sector is being driven by aspects such as noise pollution, engine efficiency, gas emissions as well as increase in energy demands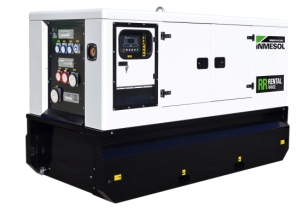 Rental range genset with FPT engine, model IIRN?115. (Image source: Inmesol)
The growing rental machinery sector, which includes companies that organise shows, events and promotions, food and beverages companies, catering and hospitality services, etc, demands increasingly quieter equipment, equipment with low gas emissions regulated by strict and limiting regulations and equipment with maximum reliability in terms of service provisioning.
Inmesol said that it has set the reduction of noise emissions as one of the main objectives for developing new products in 2017. The company?s R&D department has obtained a design with optimum airflow that includes a sound trap system, where the genset?s sound emission has been decreased between 15-20 per cent.
According to the company, the regulations on gas emissions that affect internal combustion engines are increasingly demanding within the rental sector. The engine manufacturers are aiming to adapt the design with advanced control systems and with gas emissions below the limitations, to comply with the regulations.
In addition, the demand for remote monitoring of the genset status is also increasingly in the rental sector. The genset with installed GPS devices helps in controlling, monitoring and locating the equipment in real-time. It also helps in checking status, alarms, consumption and fuel level of the generator from any device.
The remote monitoring system can also help in providing real-time motion alert warning, to prevent and act quickly in occasion of machinery theft with a low maintenance cost.