Global technology company SAP has announced its partnership with the national central cooling company Tabreed, a UAE-based international district cooling developer, in a move that will contribute to the digital transformation of the district cooling industry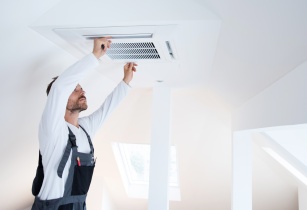 SAP and Deloitte partner with Tabreed to contribute to the digital transformation of the cooling Industry. (Image source: Adobe stock)
In the Middle East, population growth, diversified economic growth, the hot climate and government visions for environmental sustainability all favour the growth of district cooling. As a result, the Middle East?s district cooling market is valued at US$8bn, according to Global Market Insights, and poised for an 8% y-o-y growth between 2021 and 2027.
Bader Saeed Al Lamki, CEO of Tabreed, said, ?Tabreed is a dynamic and innovative company and we are always in a continues pursuit to streamline our processes to facilitate efficient growth, profitability and progress.?
?This digital transformation initiative we have embarked upon with SAP and Deloitte will greatly benefit our business. Access to real-time data would unlock additional analytical capabilities which further drive our financial and operational competitiveness and enhance our value add to our clients. I look forward to seeing the results of this strategic collaboration and the improvements that will no doubt benefit our employees and customers alike,? added Al Lamki.
All the solutions will run on the SAP public cloud data centre in the UAE, in full compliance of data regulations.
Sergio Maccotta, senior vice-president, SAP Middle East South, said, ?From the beginning of our engagement, we were very impressed with Tabreed?s technology roadmap, and today we, along with our global partner Deloitte, are proud to have partnered with them in this ambitious digital transformation journey. As an intelligent enterprise, Tabreed can scale up on our UAE public cloud data centre, exchange best practices from our utilities industry leadership and drive new digital business models.?
Tim Parr, CEO, consulting, Deloitte Middle East, said, ?As SAP?s number one global partner we are excited to be part of this transformative district cooling journey for Tabreed, to deliver a unique project which capitalises on Deloitte?s breadth of expertise and digital transformation capabilities, as well as the wider global Deloitte network. By creating a more energy efficient system, and reducing carbon monoxide emissions, Tabreed is aligned with the current global focus on climate, and Deloitte is honoured to be collaborating on this front.?