Alstom Grid and Saudi Arabia?s National Grid SA have signed an MoU to develop and advance power infrastructure in Saudi Arabia on a long-term basis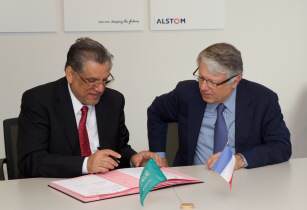 Mohammed Al-Rafaa, engineering vice-president of National Grid SA and Michael Augonnet, senior vice-president commercial solutions of Alstom Grid sign the MoU. (Image source: Alstom)
The MoU was signed by Mohammed Al-Rafaa, engineering vice-president of National Grid SA and Michael Augonnet, senior vice-president commercial solutions of Alstom Grid.
The two companies are expected to cooperate in fields of standards and specifications, engineering and design, maintenance and operation, technical exchange fora and technology roadmap. The cooperation between Alstom and National Grid SA includes main equipment such as high-voltage switchgear, power transformers, sub-station automation solutions including protection and measurement IEDs, digital sub-station, smart grid and super grid applications, network management as well as maintenance.
Additionally, a range of training courses will be conducted by experts from the Alstom Technical Institute, providing National Grid SA engineers with the optimum level of technical information adapted to their day-to-day requirements.
In 2012, the National Grid SA was established, and its responsibility was to operate and ensure smooth functioning of the electrical grid. The lengths of electrical transmission networks grew by 4.7 per cent (54,318) km-circular after the launch of a number of new projects. 38 new sub-stations and 107 transformers were added. Eleven transformers were installed in current transmission sub-stations and eight were replaced, amounting to a total capacity of 15,565 MVA. Transmission networks measuring about 3,029 km-circular were also added.
The total voltage of the sub-stations and ultra-high voltage sub-stations reached 699 and 1,982 transformers with a total capacity of 203,006 MVA. National Grid SA works to regularly improve and develop transmission networks (110-380) KV in all sectors of the Saudi Electricity Company (central, east, west and south). The company aims to raise the readiness of the network and ensure the continuity of its reliability.