Power solutions provider Altaaqa Global has started construction on its new headquarters at Dubai World Central(DWC)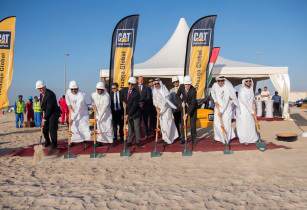 From left: Steven Meyrick of Altaaqa Global, Haytham Zahid of Zahid Tractor, Majid Zahid of Altaaqa Global, Usman Mahmood of Zahid Group, Fahad Zahid of Altaaqa Global, and Justin Wilshaw, Tariq Albadri and Mohsen Ahmad of DWC.
Company officials stated that the new facility would serve as the worldwide hub for the Altaaqa?s global operations. It is spread over 40,000 sqm of land and will house the head office, asset monitoring and control centre, training centre, equipment servicing division and recreational areas.
The opening ceremony was led by Fahad Zahid, chairman of Altaaqa Global and attended by several executives from the company. A date palm tree was also planted by Zahid.
Peter den Boogert, managing director of Altaaqa Global, said, ?The date palm tree symbolises our company ? if we take care of our company and give it the necessary attention and dedication, it will grow stronger and sturdier.?
Once completed, the facility would provide the company means to control its global footprint from a single station.
In addition to the launch of the new office, Altaaqa Global also began work on the first Caterpillar IPP facility, added officials.