Britain?s best-known music festival has once again opened its gates, this year with sunny days and balmy temperatures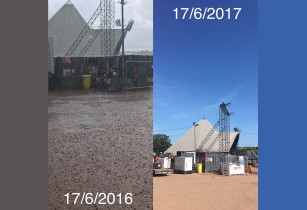 One year difference in these pictures of the same Glastonbury festival site. (Image source: Aggreko)
That?s great news for the thousands of festival goers heading to Glastonbury, and for the event?s organisers, who have again chosen Aggreko to help power another great weekend of music and revelry.
?Glastonbury is the highlight music festival of the year and we?re proud that organisers have chosen us for their power for so many years,? said Chris Weston, Aggreko?s CEO.
?We always know our power will be reliable and that Glastonbury?s venues and hospitality areas will get what they need to make a great event. This year?s heatwave means we need to make doubly sure temperatures are kept manageable so visitors are catered for and kept comfortable and safe. We take that responsibility very seriously and appreciate the trust Glastonbury places in us.?
Aggreko has supplied power and heating and cooling to Glastonbury for many years and has been supplying bio-diesel generators to Glastonbury since 2009, to meet the festival's request for the use of renewable energy.
Aggreko?s 230-generator fleet onsite will use more than 60,000 litres of hydrogenated vegetable oil (HVO) fuel to power the event. This year they have provided 4x4 tankers of fuel to meet any spike in demand.
The Aggreko team began setting up the power supply infrastructure more than a month ago. Seventy Aggreko technicians were involved in the run-up to the event, creating their own ?village? within the site, with the team growing to more than 90 at its peak.
The internationally renowned festival, which first took place in 1970, and now has more than 177,000 visitors, is made possible by a small army of highly experienced and skilled people. Aggreko placed four project managers at the festival, who between them have experience of some of the world's largest and most prestigious events, including the Ryder Cup, the Open Golf Championship and the Olympic Games.
This year Aggreko also laid 60km of LED festoon lighting with time clocks to reduce the power requirement during the day. Areas powered by Aggreko include all stages and performance areas, a broadcast compound for the BBC, the market areas, the medical centre, the police compound, event security control and the corporate hospitality centres.
?Glastonbury is such an iconic festival and one we are proud to have had such a long association with,? said Jono Rose, Aggreko?s general manager, event services and HV, adding, ?The pressure is always on and the weather plays such an important part in decision making and planning ? come rain or shine.?
?Planning and the infrastructure we built in the month before the event, are crucial to the success of the project. Our main consideration is to ensure everything is up and running optimally, and that whatever demands are put on us, are met effectively and without incident,? Rose stated.