Bosch Thermotechnology?s Middle East and Caucasus region covers a vast area: 17 states between Egypt and India with more than 350mn inhabitants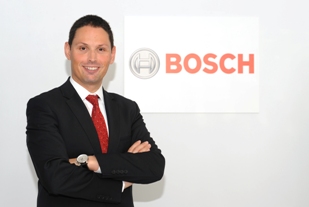 Mert Kalafatoglu, Bosch Thermotechnology sales manager for the Middle East and Caucasus region.
The total gross domestic product per capita of the 17 states is almost exactly the same as that of China, four times higher than in India, and three times higher than the GDP per capita in Africa ? so, undoubtedly a region which is extremely attractive for Bosch Thermotechnology.
Given the size of the area with its different climate zones and no single standardised form of energy supply, it is little wonder that the sub-markets in the Middle East and Caucasus can vary greatly from each other.
Different product groups are required, depending on the particular region. Azerbaijan, Georgia and Iran are dominated by gas-fired water heaters and wall hung boilers.
This is a result both of natural circumstances ? there are major climatic contrasts in the countries ? and of the fact that these countries have very well developed gas networks, unlike the eastern Mediterranean countries such as Syria, Lebanon and Jordan.
These lack the gas networks which could provide a blanket supply to the residential sector.
In the recent past, however, natural gas fields have been discovered off the coast of the Eastern Mediterranean, which can now be used to supply gas to some industrial areas. An underwater pipeline makes this possible.
Domestic hot water requirements in these countries are usually covered by floor-standing oil-fired boilers or via integrated solar thermal systems.
In the very hot Gulf states of Bahrain, Kuwait, Oman, Qatar, Saudi Arabia and the UAE the demand for heating systems is relatively low, as is to be expected.
Electricity and solar energy are mainly used in these countries for domestic hot water provision.
The last few years have certainly been successful for Bosch Thermotechnology.
?We have managed to significantly improve our sales and our net profit for three years in succession now,? said Mert Kalafatoglu, who heads the Middle East and Caucasus sales region from his base in Turkey.
The sales team is, of course, also committed to further growth. The medium-term strategy and the growth plan are based on four different product groups in the specific markets.
Wall-mounted boilers are particularly relevant to the markets of Iran, Azerbaijan and Georgia.
In Azerbaijan, Bosch Thermotechnology products already holds the largest market share, and in Iran the company's products are in first place among imported appliances.
Solar thermal systems are in particular demand in the UAE. The Gulf states have the largest market potential for this product group.
This is due to not only the high number of hours of sun annually, but also to national provisions which came into force recently and promote the use of solar thermal products.
"We therefore monitor current and upcoming solar thermal projects very intensively with our partners and maintain close contacts with designers and MEP companies," revealed Kalafatoglu.
When it comes to air-conditioning systems, Bosch Thermotechnology is active mainly in Northern Iraq and in Azerbaijan.
Bosch Thermotechnology supplies merchandise air-conditioning systems there for commercial applications.
Installation and after-sales service is handled by local service partners.
In large parts of the region, however, Bosch Thermotechnology is able to generate new growth mainly via the sale of large specified systems, especially industrial steam boilers.
The focus in this area is on Saudi Arabia, the UAE, Qatar and Pakistan. In these countries Bosch Thermotechnology works with selected partners who can offer turnkey solutions.
The Bosch Thermotechnology after-sales team assists them by supervising the installation and commissioning of the systems.
Bosch Thermotechnology has also successfully completed a major project in Saudi Arabia.
One of the leading Saudi Arabian beverage manufacturers will produce soft drinks and juices in particular at its new plant.
"All the feasibility studies and the many negotiations that were necessary paid off," stated Kalafatoglu.
"This project was the perfect launch pad for large specified systems business in Saudi Arabia and a huge success for our activities."
Three Bosch industrial boilers, each with a capacity of 12 tonnes of steam per hour, provide the necessary process steam.
They were shipped in December 2013. Bosch Thermotechnology?s recent negotiations with a global beverage company were also extremely successful.
?Thanks to the outstanding commitment of our large specified system sales team in Turkey, we have successfully been awarded the orders for industrial boilers projects for this company in Turkey, Iraq and Pakistan,? enthused Kalafatoglu.
"This proves that Bosch Thermotechnology is one of the key suppliers in this segment within this region.?