GE Power?s HA gas turbine and services portfolios have achieved new accomplishments including the 26th HA in commercial operation and the new MXL2 with additive manufactured performance upgrade for the GT13E2 turbine, also deployed in the Middle East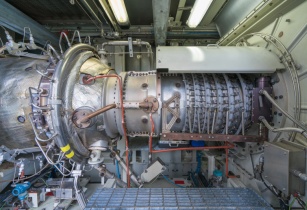 These accomplishments reiterate GE Power?s position to help gas power producers efficiently and profitably meet the growing demand for electricity. (Image source: pichitstocker/Adobe Stock)
Introduced in 2016, GE?s HA is a leading advanced heavy-duty gas turbine across the world. It has delivered two world records for efficiency across 50 Hz and 60 Hz segments. The HA has achieved more than 118,000 operating hours and is the fastest growing fleet of gas turbines in the world with 76 units ordered by more than 25 customers across 15 countries
According to the International Energy Agency (IEA), world energy demand is expected to rise 30 per cent through 2040. To meet this increasing demand, natural gas, rapid rise of the renewables and energy efficiency improvements are expected to lead the way.
Russell Stokes, president and CEO of GE Power, commented, ?Our HA technology enables unprecedented levels of efficiency to help customers reach more aggressive emissions goals.?
Other new milestones and accomplishments of HA gas turbine include:
? Competitive Power Ventures (CPV) and its partner GE Energy Financial Services announced that the CPV Towantic Energy Centre in Oxford, Connecticut, has achieved commercial operation, marking the 26th HA unit to begin operation. This new plant uses two seven HA.01 gas turbines and associated engineered equipment package.
? PSEG Power achieved commercial operation at its Sewaren seven combined-cycle power plant in New Jersey, powered by a seven HA.02 gas turbine and associated engineered equipment package.
? Tennessee Valley Authority?s Thomas H Allen Fossil Plant in Memphis, Tennessee, as well as the Haveli Bahadur Shah and Bhikki power plants in Pakistan, also has recently achieved commercial operation.
? Work at the Porto de Sergipe power plant, in Barra dos Coqueiros, Brazil, is progressing with three seven HA.02 gas turbines and three generators arriving at the Sergipe port on 1 June. GE will supply the entire power island engineered package as well as the remaining balance of plant such as cooling towers, foundations roads and buildings. When complete, the plant will be capable of generating 1,516MW, the largest gas power plant in the country.
GE Power and Vattenfall W?rme Berlin AG, a subsidiary of Swedish utility Vattenfall AB, announced the new MXL2 with additive manufactured performance?the world?s first upgrade solution for GE?s GT13E2 gas turbines that uses major components manufactured using additive technology.
The technology aims to elevate the output and efficiency of existing 13E2 gas turbines. It aims to:
? Reduce component cooling requirements by up to 25 per cent
? Increase output up to 21MW in a combined-cycle configuration
? Achieve additional efficiency up to 1.6 per cent in a combined-cycle configuration
? Deliver maintenance intervals of up to 48,000 hours
The new MXL2 with additive manufactured performance aims to help gas plant power producers save up to US$2mn in fuel annually while opening up the potential for additional revenue of up to US$3mn annually in new power capacity.