After ten years of operations in the Middle East region, Himoinsa is predicting considerable growth for its regional subsidiary and has already inaugurated its new facilities in the UAE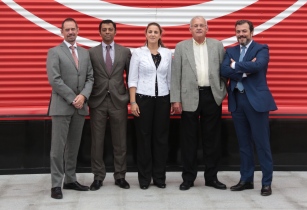 Keith M Webb, Himoinsa Middle East general manager; Adnan Dawood, FAMCO regional general manager of marketing; Lydia Gracia, Himoinsa executive director; Francisco Gracia, Himoinsa president; and Guillermo Elum, Himoinsa sales and marketing director.
The global provider of energy generation systems has announced that it expects to see its turnover follow the growth of 2013, when it experienced a 25 per cent rise compared to the previous year. 2013 was also a year in which the Middle East accounted for 10 per cent of Himoinsa Group?s total sales.
Guillermo Elum, Himoinsa sales and marketing director, said, ?We are continuing to grow our presence in this market. We have won the trust of major companies in the Middle East, which choose us for our quality products and service.?
Himoinsa currently works with local customer companies such as Famco, Gulf Equipment and rental company PEAX. During its time serving the region Himoinsa estimates that it has delivered approximately 4,000 generator sets and lighting towers to its distributers and rental companies, working in the UAE, Saudi Arabia, Yemen, Oman, Iran, Afghanistan, and Pakistan.
Saudi Arabia is evidently an important and valuable market for the energy provider. According to Himoinsa, quoting data from the UN Comtrade Database, in 2013 countries, such as Saudi Arabia, imported generator sets worth EUR?429mn (US$547mn).
Himoinsa announced that it is set to deliver generator sets, purchased by Railway Infrastructure Instalaciones and Servicios S L, to supply power along parts of Saudi Arabia?s Mecca-Medina high speed rail project, which involves 444km of track.
The Middle East poses a number of challenges for power-supply companies in terms of the environment and climate, but Himoinsa claims that its equipment is efficiently adapted.
Himoinsa Middle East general manager Keith Webb said, ?Equipment for desert areas demands special attention, apart from the heat, other factors such as humidity can cause problems if not given due consideration. Dust is also a factor that can clog filters and accumulate in the mechanisms and affect performance.?
He added, ?We are prepared to work in the extreme conditions of the Middle East, being able withstand the daytime temperatures of 50oC is essential.?
Furthermore, in order to tackle the region?s operational challenges, Himoinsa claims that its generators are designed with tropicalised radiators with double varnish and anti-condensation heaters and the alternator air filters are specially treated to prevent dust from entering and to ensure uninterrupted power supply.