MAN Diesel & Turbo has announced an expansion of its Dubai office to meet the needs of its regional businesses partners and governments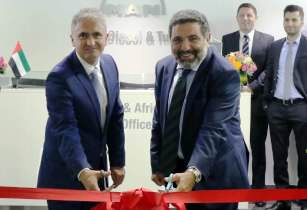 The company currently employs over 115 staff in the UAE and plans to grow that number in the near future. (Image source: MAN Diesel & Turbo)
Dubai is already home to the company?s headquarters for the Middle East and Africa region, which the company considers to be a strategic growth region. The UAE also houses all three of the company?s core business units ? turbomachinery, marine engines and systems, and power plant solutions.
The latest expansion in Dubai is to the company?s Dubai Maritime City office, which was formally inaugurated by Uwe Lauber, CEO of MAN Diesel & Turbo, who visited Dubai this week to meet with local customers. Lauber was joined during the inauguration by partners from across the Volkswagen Group, representatives from Dubai Maritime City and the German and Swiss Consuls for Dubai.
?The Middle East is a very important growth region for all three of our business units. The UAE, in particular, is a central hub from which we are able to offer maximum flexibility to our customers, with an expanded presence in Dubai providing a one-stop shop for all their needs. Moving forward, we will continue to strengthen our local bonds in the UAE business community and aspire to grow as a partner who supports the UAE?s long-term national vision,? says Lauber.
More than half of world trade is currently moved by MAN Diesel & Turbo engines. The company?s outlook for future growth is positive as worldwide seaborne trade is anticipated to double between now and 2030 and global energy demands also set to double within the same period.
The company currently employs over 115 staff in the UAE and plans to grow that number in the near future. This includes running operational workshops in Dubai and Fujairah, the latter of which has recently been bolstered by a multi-million upgrade in 2016.
MAN Diesel & Turbo has also recently partnered with the University of Dubai to receive over 50 students as UAE Innovation Ambassadors through a knowledge-exchange programme at its global production site in Zurich, Switzerland.