Saudi Cement has signed an agreement with GE Power for the upgrade of three GE 6B gas turbines at its Hofuf plant to increase power output and efficiency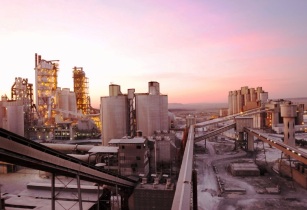 Saudi Cement?s plant is located in eastern province approximately 120km from Dammam, in the historic city of Al-Hasa. (Image source: Saudi Cement)
This is the first time that GE Power?s Advanced Gas Path (AGP) solution will be implemented to strengthen power generation productivity for a cement industry globally, according to a report in Saudi Gazette.
The project aims to help Saudi Cement increase power output and efficiency, while reducing the need to draw power from the national grid, in support of the kingdom?s drive towards greater economic diversification under Saudi Vision 2030.
CEO of Saudi Cement Mohammed AlGarni said, ?Power supply is both a key input as well one of the major costs in our manufacturing process. Reliable, efficient electricity supply is thus essential for the continuous operations of our facility, as well as our market competitiveness. GE Power?s Advanced Gas Path upgrade solution will allow us to improve efficiencies and become more self-sufficient in power production.?
Joseph Anis, president and CEO of GE?s Power Services business in Africa, India and the Middle East, added, ?As a regional pioneer in the manufacture and supply of high quality clinker and cement, Saudi Cement has played a vital role in the development of construction projects across the Middle East for more than half a century. We are delighted to support their continuous journey of operational improvements and to contribute towards the strengthening of the Kingdom?s industrial base.
?The upgrades of the gas turbines at Hofuf Plant will not only help achieve efficiency and output improvements but also extend maintenance intervals and lower emissions, to the benefit of Saudi Cement and the wider community.?
The upgrades are expected to complete by Q3 2018. They will help to enhance efficiency by up to 3.3 per cent per turbine, contributing towards the Saudi National Transformation Program 2020?s goal of improving fuel utilisation in electricity generation to 40 per cent by 2020.
GE has more than 80 years of partnership in the kingdom with over 4,000 employees, including Baker Hughes, a GE company.
With nearly 50 per cent of the talent in highly skilled engineering and technology roles, GE has built an advanced industrial ecosystem that includes a growing local supply chain, with significant partnerships and investments in support of the kingdom in its economic diversification goals, including building localised manufacturing competencies.